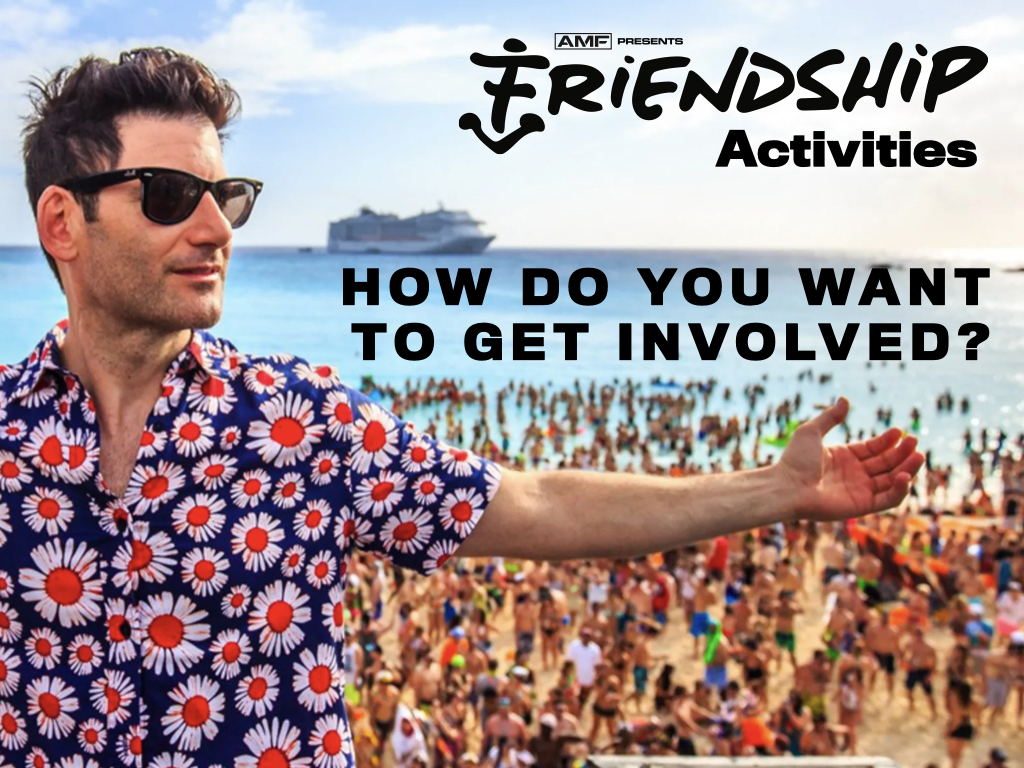 Activities Orientation
Come to Bliss Lounge aka Activities Headquarters to meet your fun and mostly friendly
Friendship 2023 games and activities team!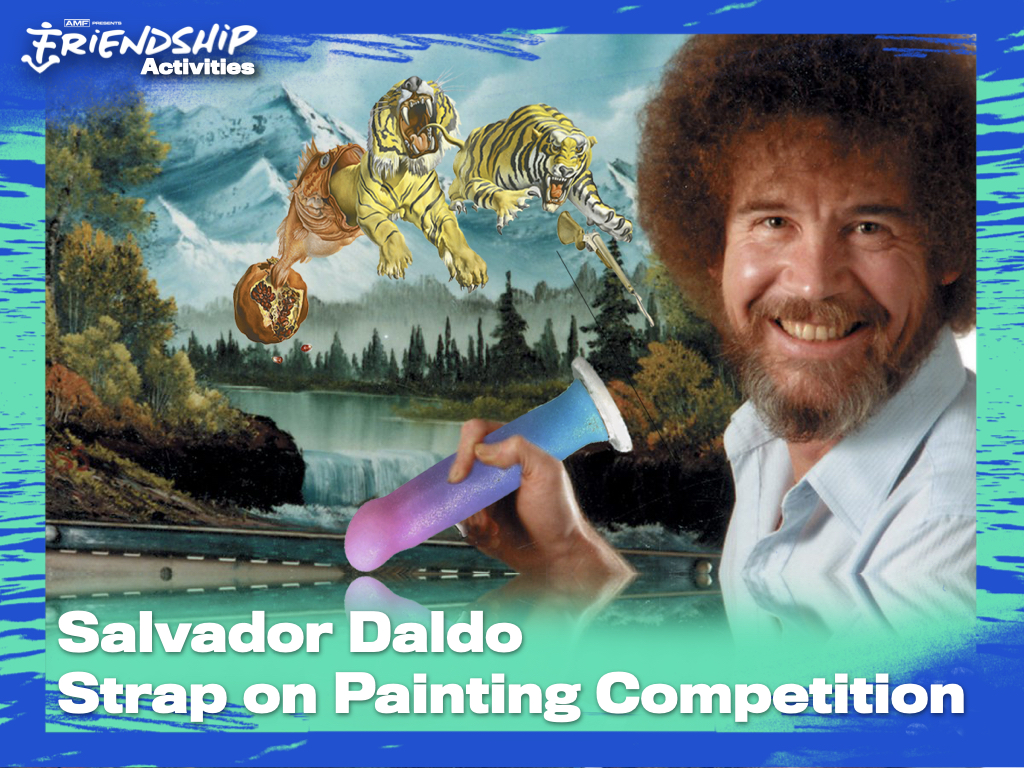 Salvador Daldo: Strap on Painting Competition
Strap on and step up. It's time to let your inner artist out, all over the canvas. This is how Bob Ross painted happy trees with his happy tree at your moms house. The winner will take home the coveted golden dildo trophy.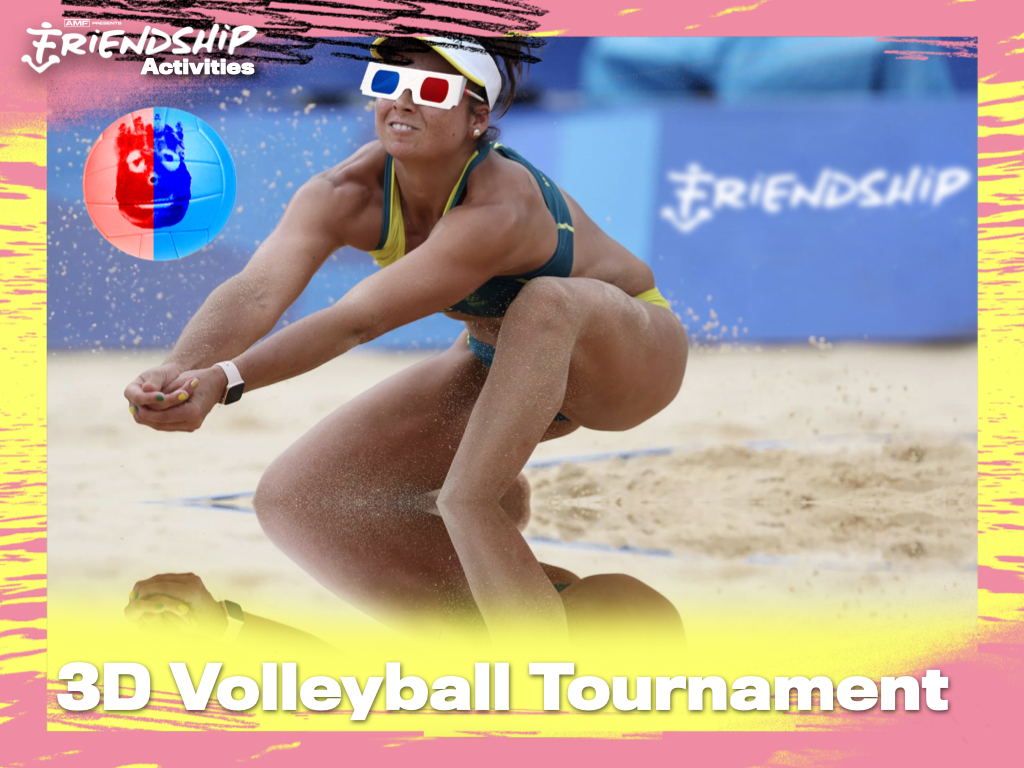 3D Volleyball Tournament
Volleyball is already a ton of fun, we are just going to make it better by adding red and blue balls and enough 3d glasses for everyone to mix things up!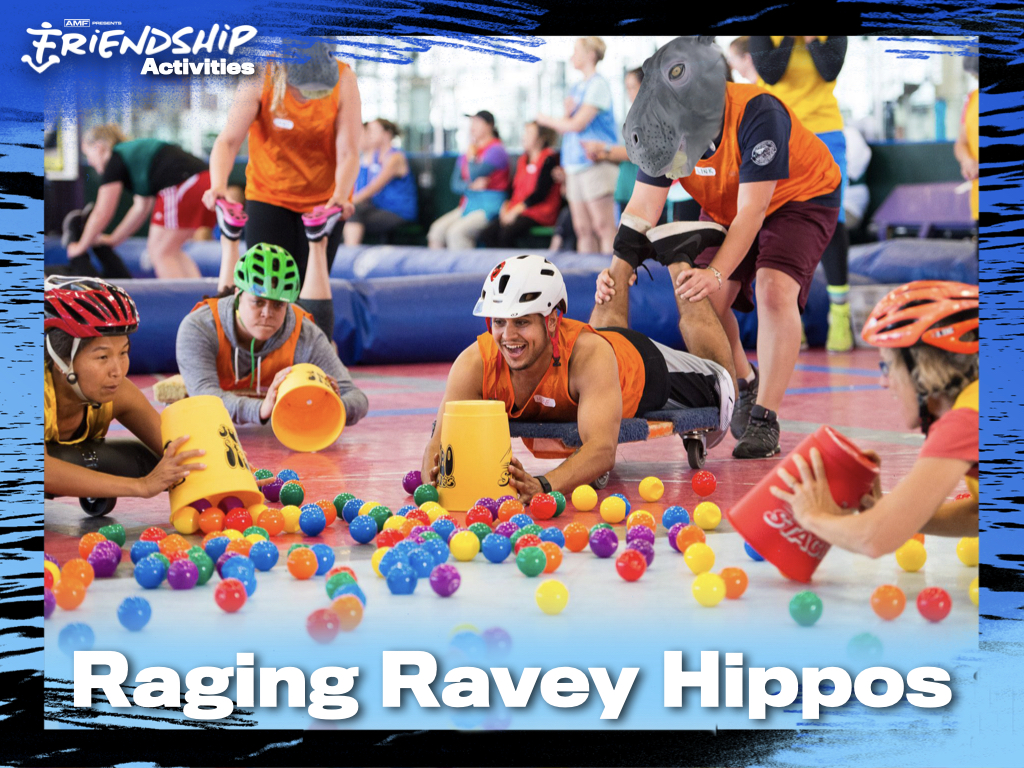 Raging Ravey Hippos
Real life size version of hungry hungry hippos game. 4 teams, tons of balls, one winner! Channel your inner hippo and devour the competition.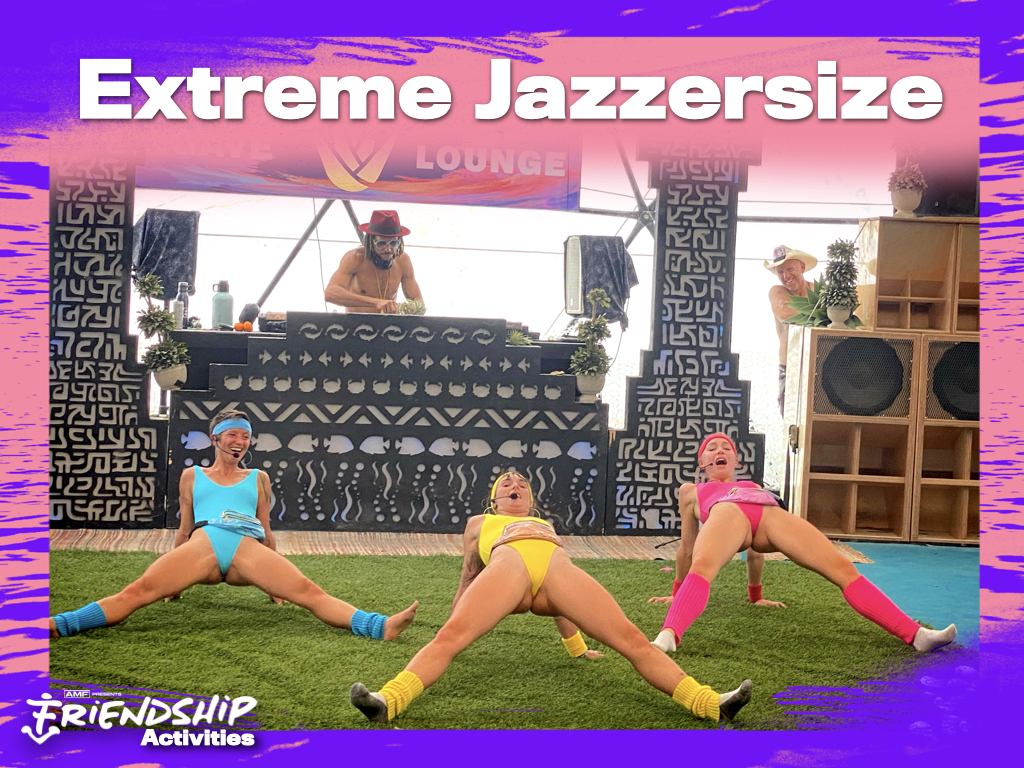 Extreme Jazzersize
Did you eat too many Christmas cookies? Do you sweat on relatively cool days? Thrust and shake your way into a healthier lean mean dance machine that will have the endurance to be a true marathon raver. 80's sexy spandex attire strongly encouraged. Everyone welcome! Hosted by the camel toe trio.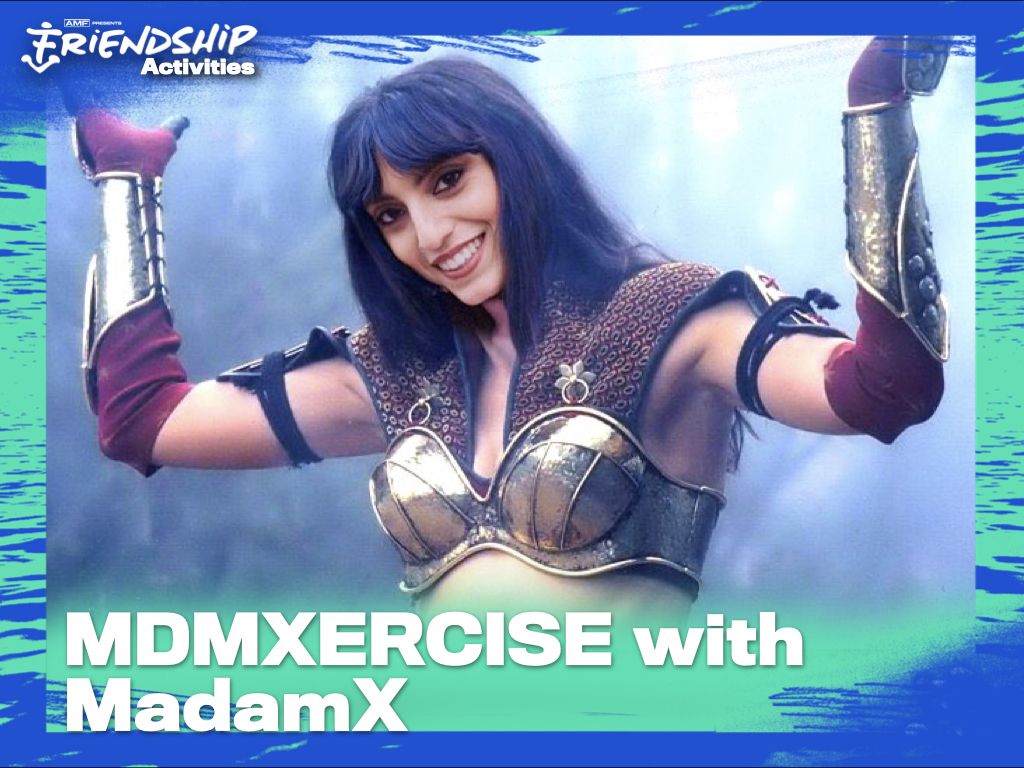 MDMXERCISE Class
Unleash your inner warrior with DJ Madam X's ass-kicking Gladiator training. Keeping fit with PHAT tunes & XPLOSIVE Hiit workouts, get ready for the ultimate wake up call. Feel muscles you never knew existed and sweat madder than Jordan Peele. With surprise guest DJ's to soundtrack and sexy Greek sisters cracking the whip, you'll be transported from the basketball court into the Hellenic Arena.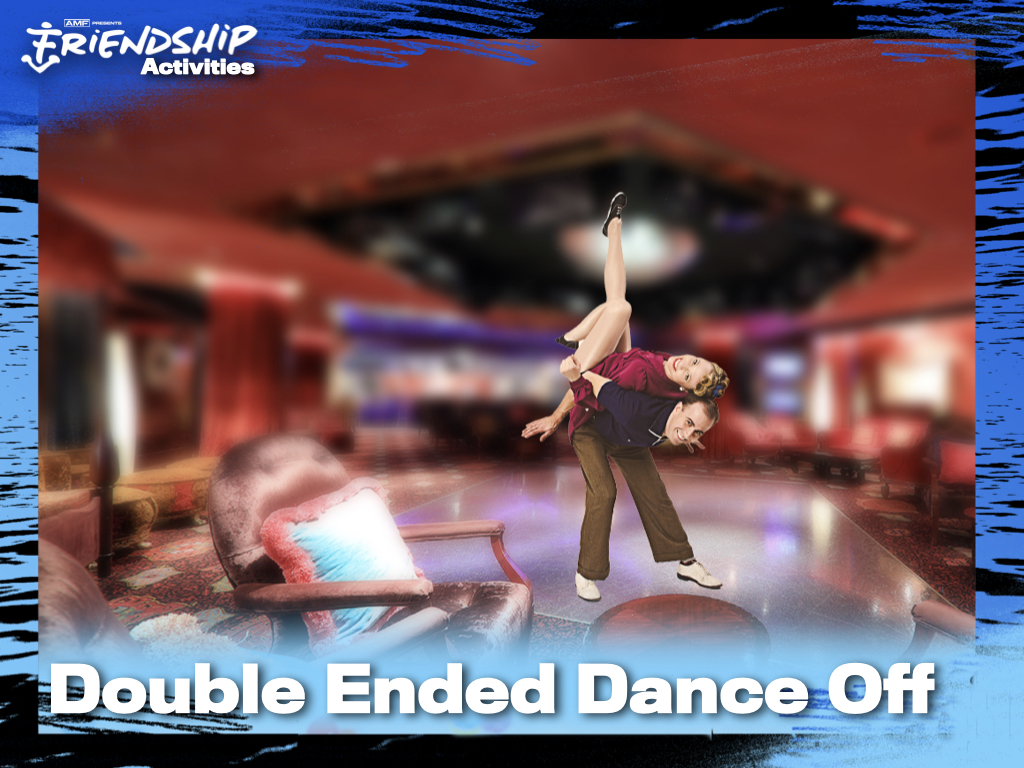 Double Ended Dance Of
This will be EXTREME. We are going to strap you to your best shipmate and then as a pair you will have to compete in a double ended dance off!! Feel free to use duct tape to practice at home.
Ice Cream Whistle Relay Race
Any contest that involves soft serve is sure to be a big hit, meet us art the buffet ready to disrupt some dining!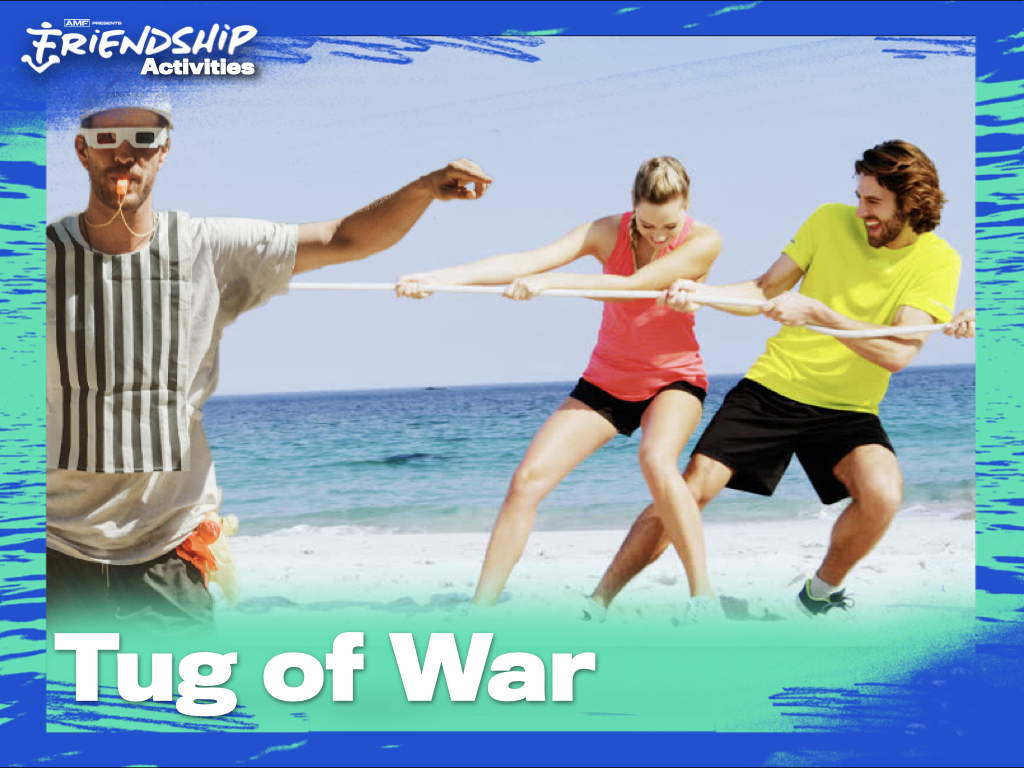 Tug of War
Set sail for adventure and excitement with Tug-of-War. The game that takes the classic showdown to new heights (and depths). With the high seas as your arena, you'll engage in an epic battle of strength and strategy as you pull and tug your way to victory 😉 Grab some rope, find your footing, and let the tugging begin!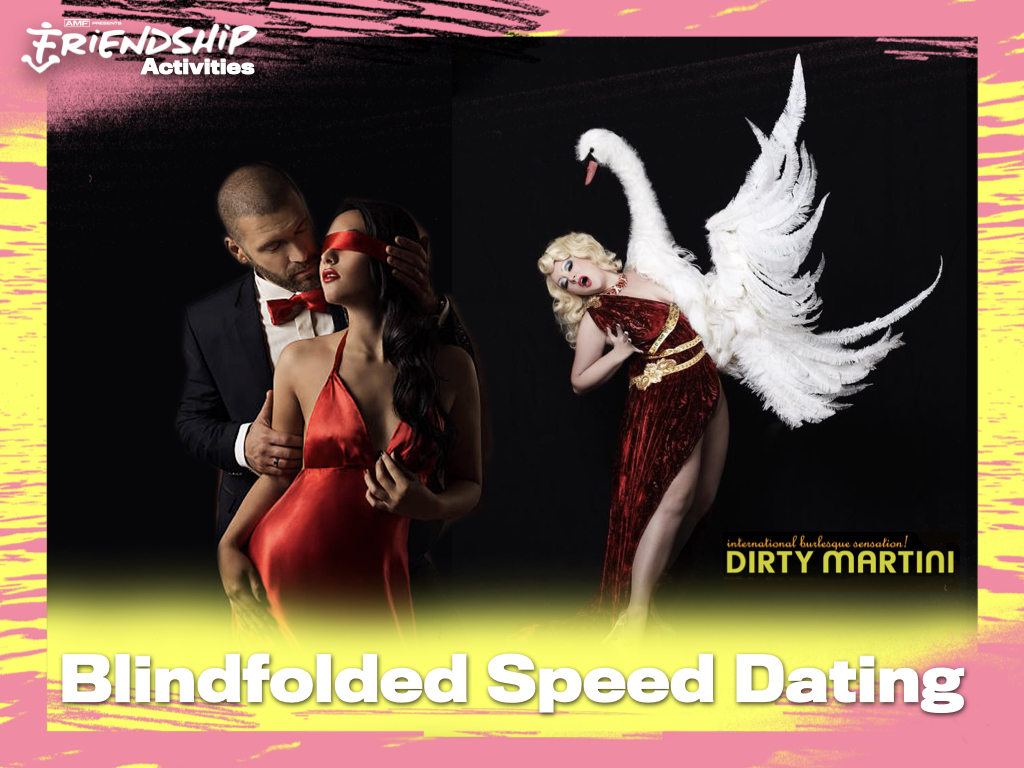 Blindfolded Speed Dating
Do people like you more when they are blindfolded? Do you have a sexy radio voice? Are you on the boat single and sick of listening to your cabin mates banging every night? If you answered yes to any of the above, then this is the activity for you. Come lonely and thirsty, leave tipsy with your rave soul mate. Hosted by "The Sexpot Sophisticate", Dirty Martini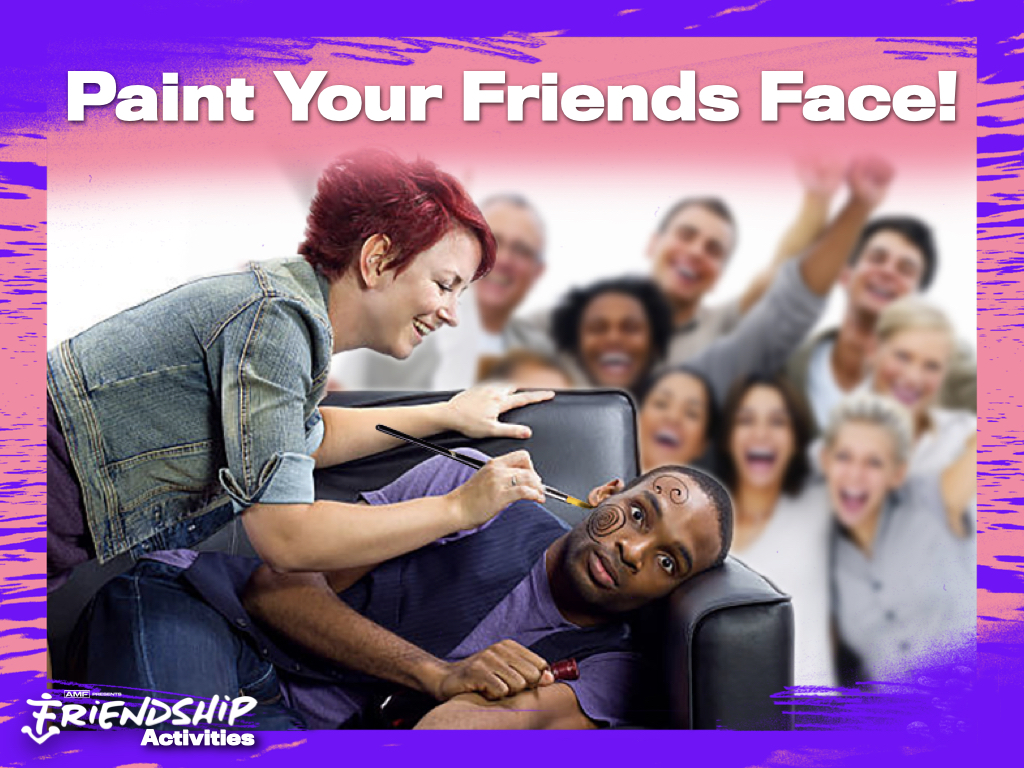 Paint Your Friends Face!
Get ready to unleash your inner Picasso (or maybe not) with 'Paint Your Friends Face' – the game that lets you turn your friends into walking, talking masterpieces (or nightmares). Choose from a wild array of colors, brushes, and stencils to transform your friends into anything from a cute kitten to a terrifying teletubbies. Just make sure to snap a photo before they wash it off, because the results are sure to bring laughter to the whole room! Don't have any friends? No problem! You can always paint your enemies. The possibilities are endless, so grab your paint palette and let the games begin!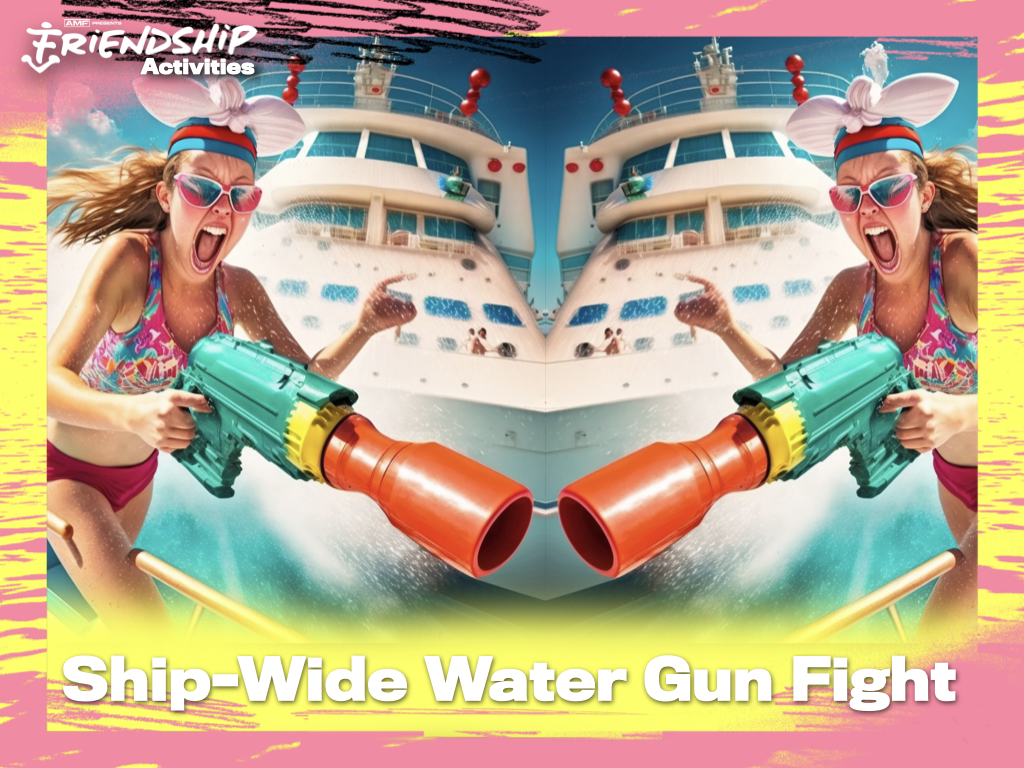 Ship-Wide Water Gun Fight
Just when you thought having fun with your shipmates whilst dancing in a pool to your favorite DJs couldn't get any better… Welp… simply imagine water guns falling from the sky and a massive water gun battle ensuing. Sorry sunbathers or folks on the deck… the days of being dry are over… let's get wet!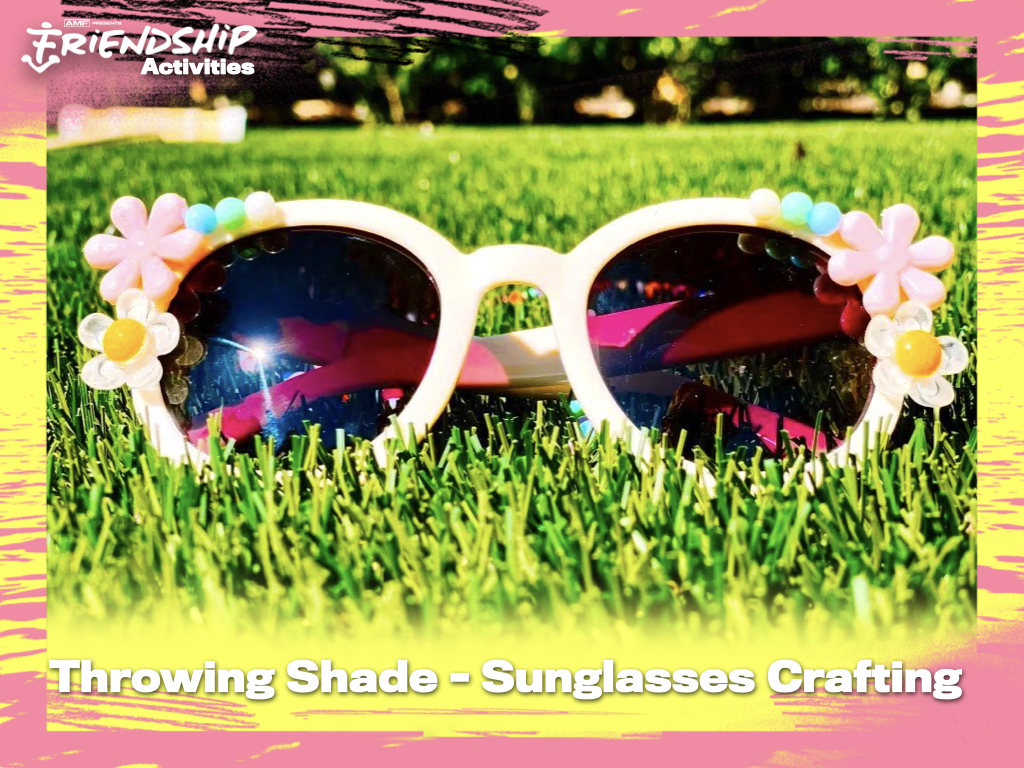 Throwing Shade Sunglasses Crafting
Sorry we couldn't have tiny hat class this year (tiny hat store is gone) But never fear, we will be crafting sunglasses together to protect your eyeballs on the island and help you look extra fabulous! Hosted by Anne Richards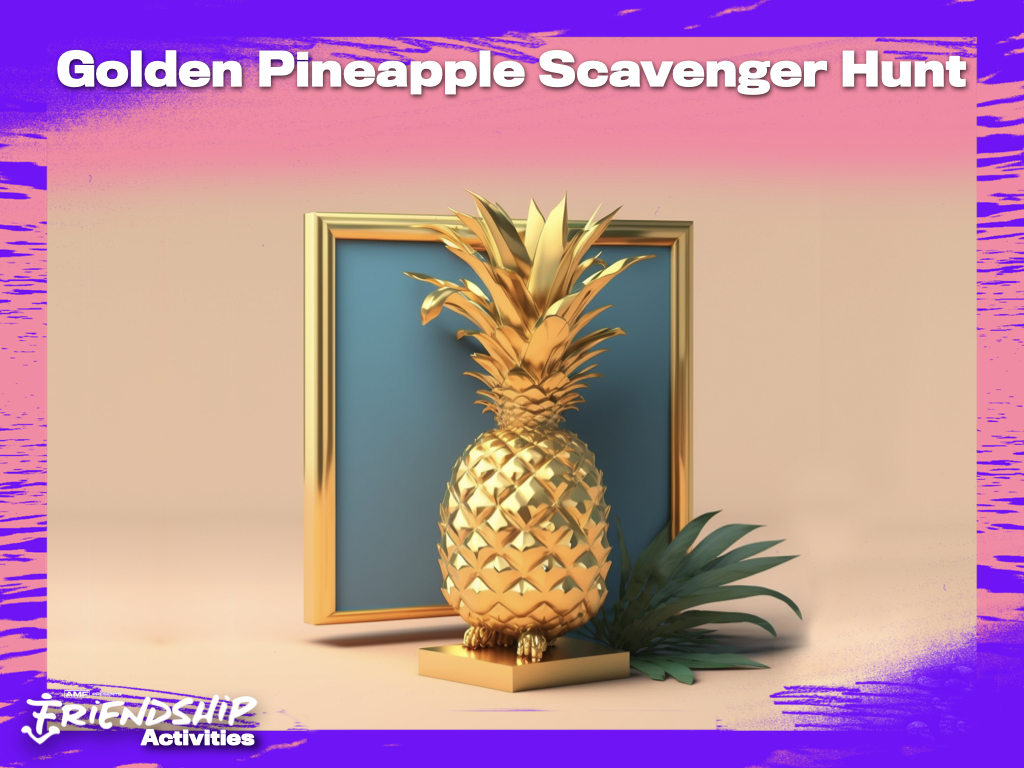 Golden Pineapple Scavenger Hunt
Get ready for a wild and wacky adventure! For those who haven't gone down the rabbit hole … this scavenger hunt is one for the books. So grab your friends, put on your thinking (and acting) cap, and let the games begin! Remember, Gary delivers the highly coveted Golden Pineapple trophy and plays a dj set in your town!! *Only available in the continental USA … Sorry Guam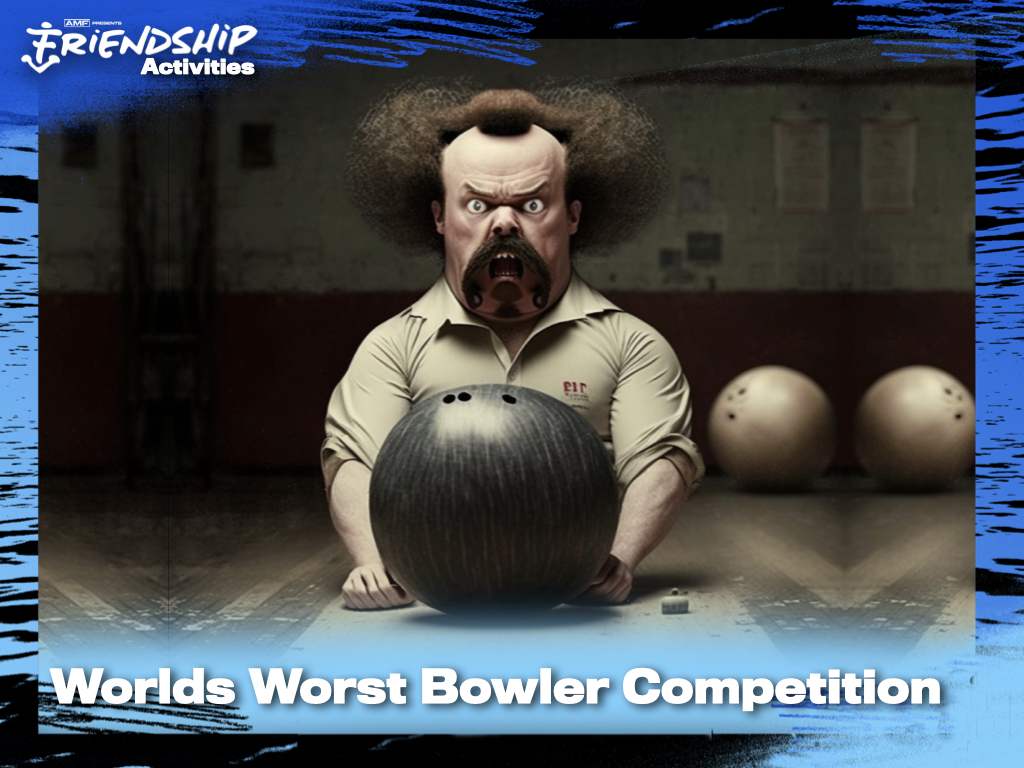 Worlds Worst Bowler Competition
Are you good at Bowling? If you answer yes this is not the game for you… We will be keeping the bumpers up then competing to see who can get the worst score! (It's actually harder than you think to miss pins when you can't get a gutter ball)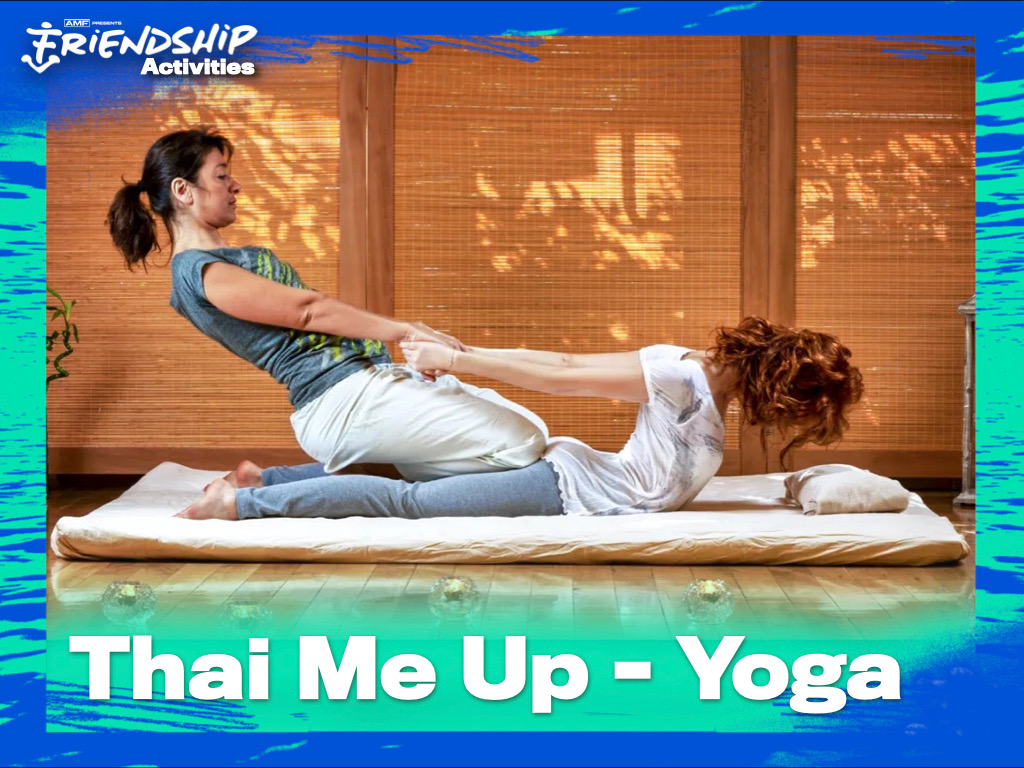 Thai Me Up (yoga)
Whether you're into that or not, we promise this class is for you. Grab a friend and join us for a partner yoga class that utilizes Thai massage techniques to soothe tight, sore muscles and relax your body. We'll take turns applying gentle pressure and stretching techniques to relieve tension and rejuvenate the body for our interstellar western adventure ahead. (If you don't have a partner, we'll definitely find one for you!)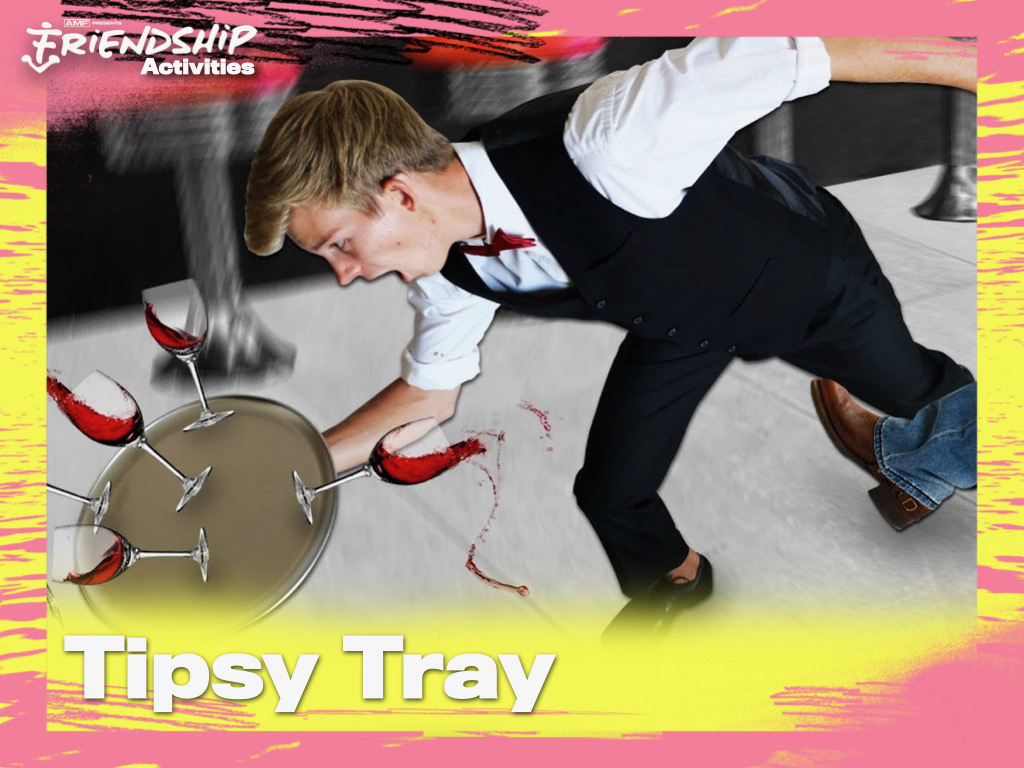 Tipsy Tray
Just when you thought you're the best when you're drunk add a bat, a tray full of drinks and an obstacle course to the mix! This dizzy game involves spinning around a bat then attempting to serve drinks to your teammates without spilling a drop. But watch out for Drunken Danny who'll try to trip you up! We assure you, you will leave this event wet and happy!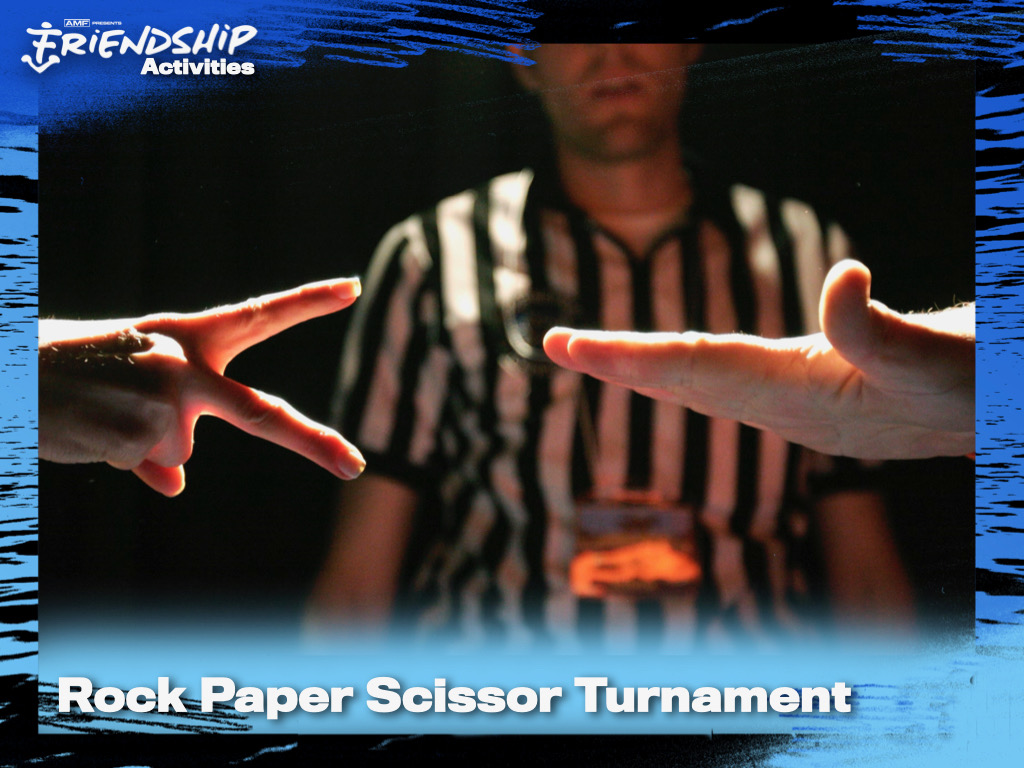 Daily Rock Paper Scissor Tournament
Are you feeling lucky? This game of luck skill and confidence is quick and very fun!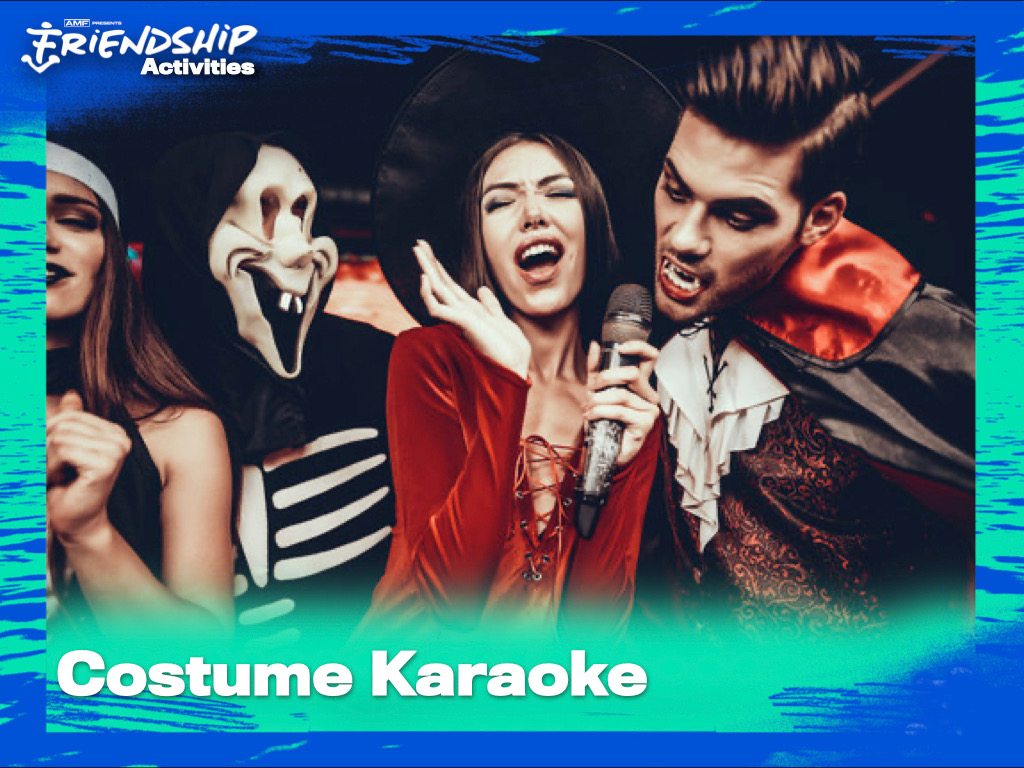 Costume Karaoke
Come sing your heart out in with your shipmates in your favorite costumes, who doesn't love Karaoke?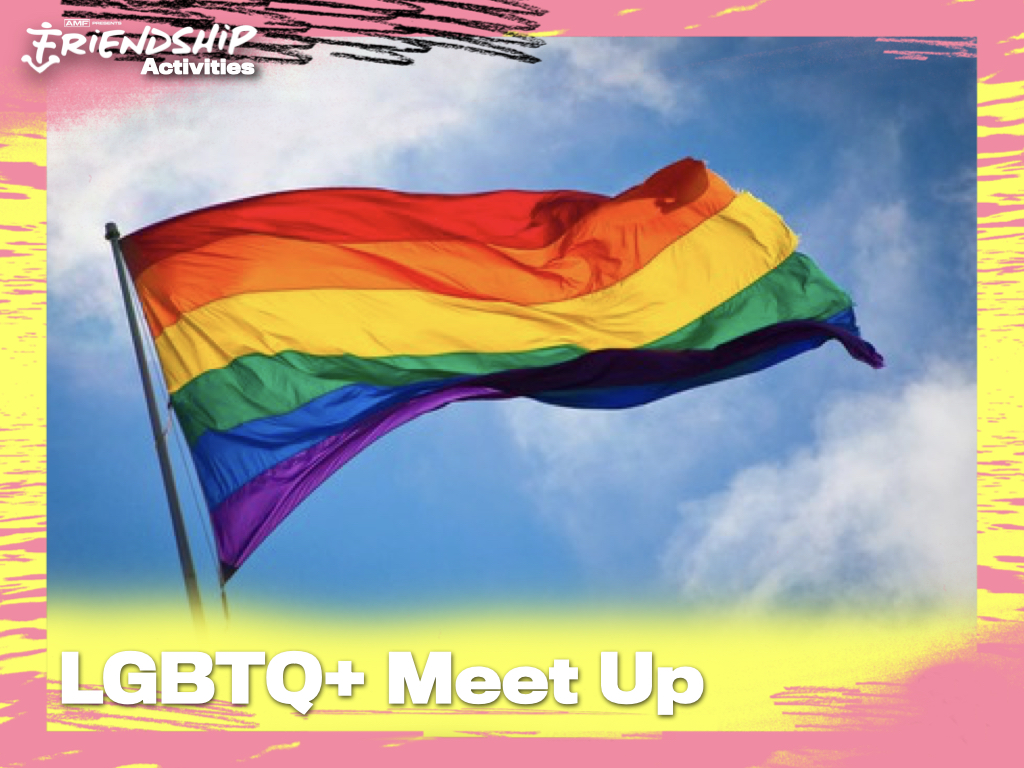 LGBTQ Meet up
Right after the mustard drill it's time to to meet and greet new and returning LGBTQ ship fam!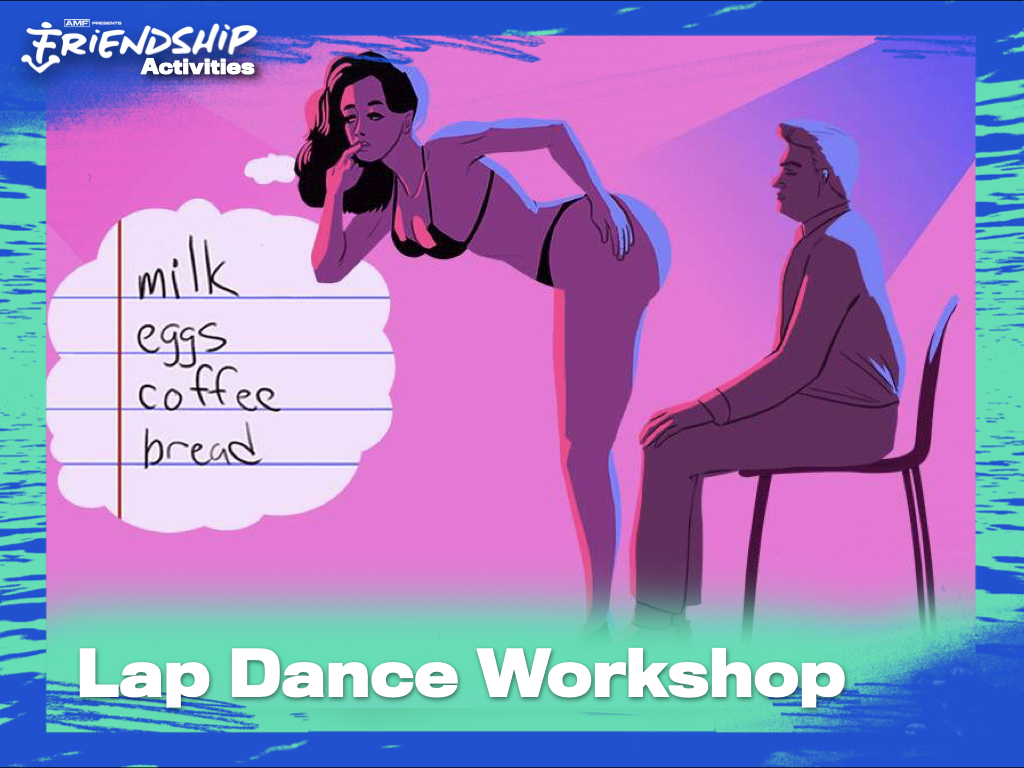 Lap Dance Workshop
Have you always wanted to learn how to give a sexy dance? Come let the Twerkaholicz teach you how to sway your hips, caress your skin, and tap into the deepest part of where your sexy lives. Prizes for the most creative dances will be given!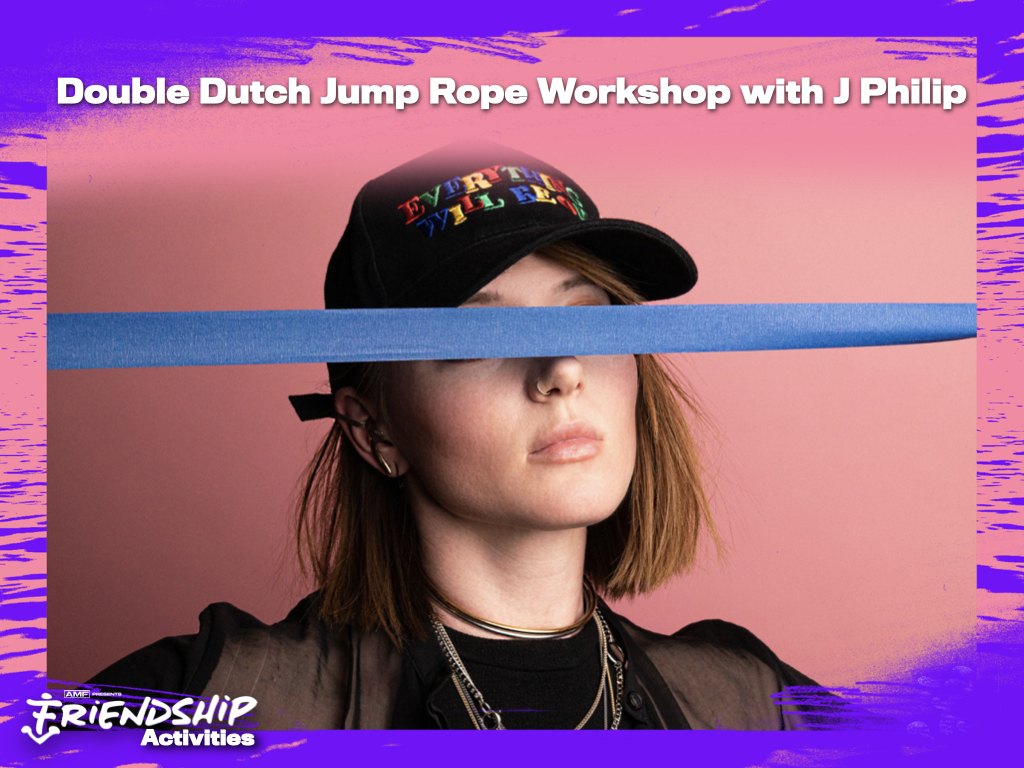 Double Dutch Jump Rope Workshop
Not only is J Phlip one of the best dj's on the planet and one of the original Dirty Bird Players, She also happens to be really good a double dutch jump rope. J Phlip and the Twerkaholics team up to bring you this super fun activity. Beginners to experts welcome!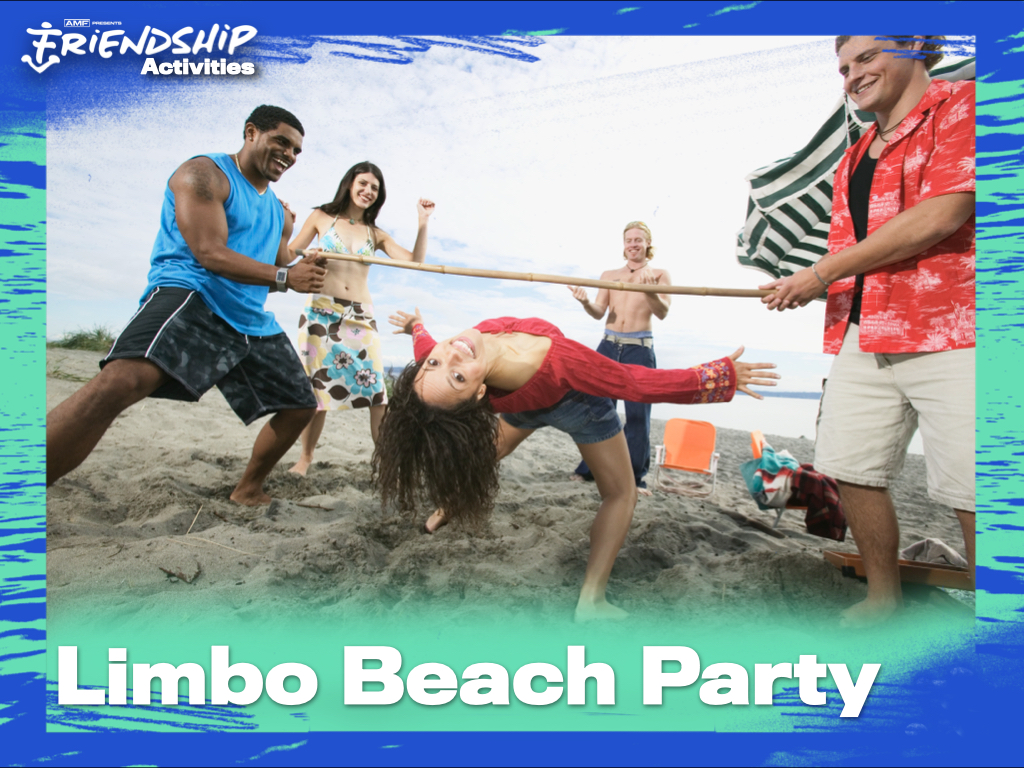 Limbo Beach Party
How low can you go, it's time for your to show… us your epic limbo skills! No beach party is complete with out a full Congo line limbo game!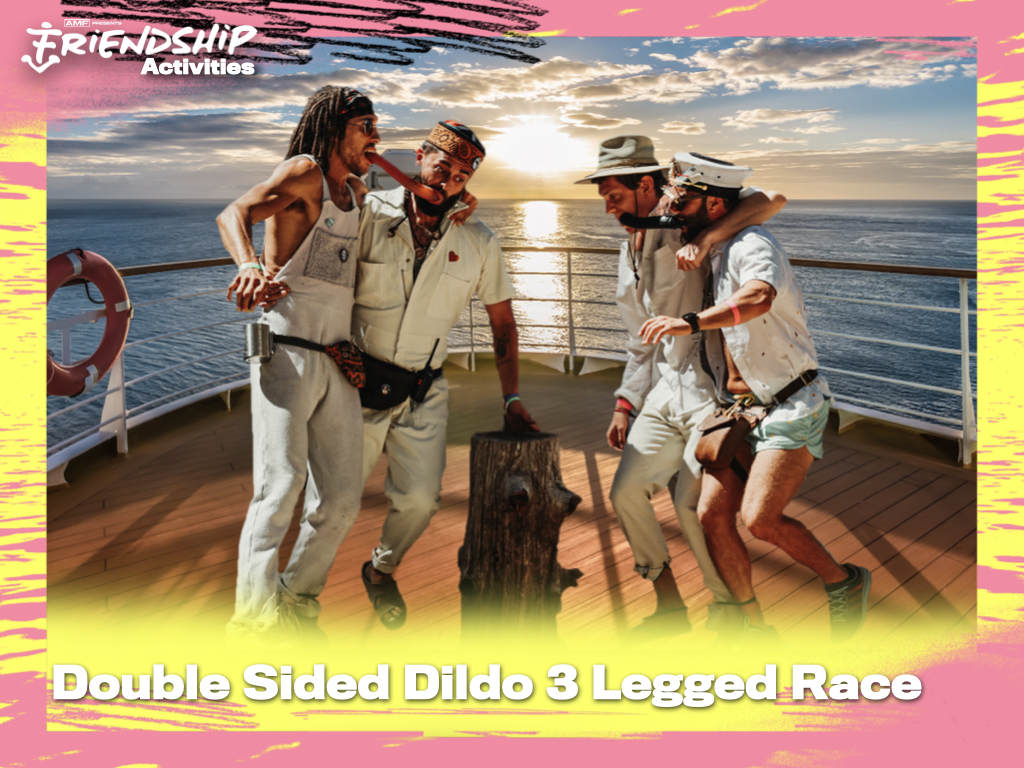 Double Sided Dildo Race 3 Legged Race
This event is wild, we will strap you to your favorite shipmate then you will have run a relay with a big double ender clutched in your teeth. Winners get ultimate bragging rights and a sweet prize.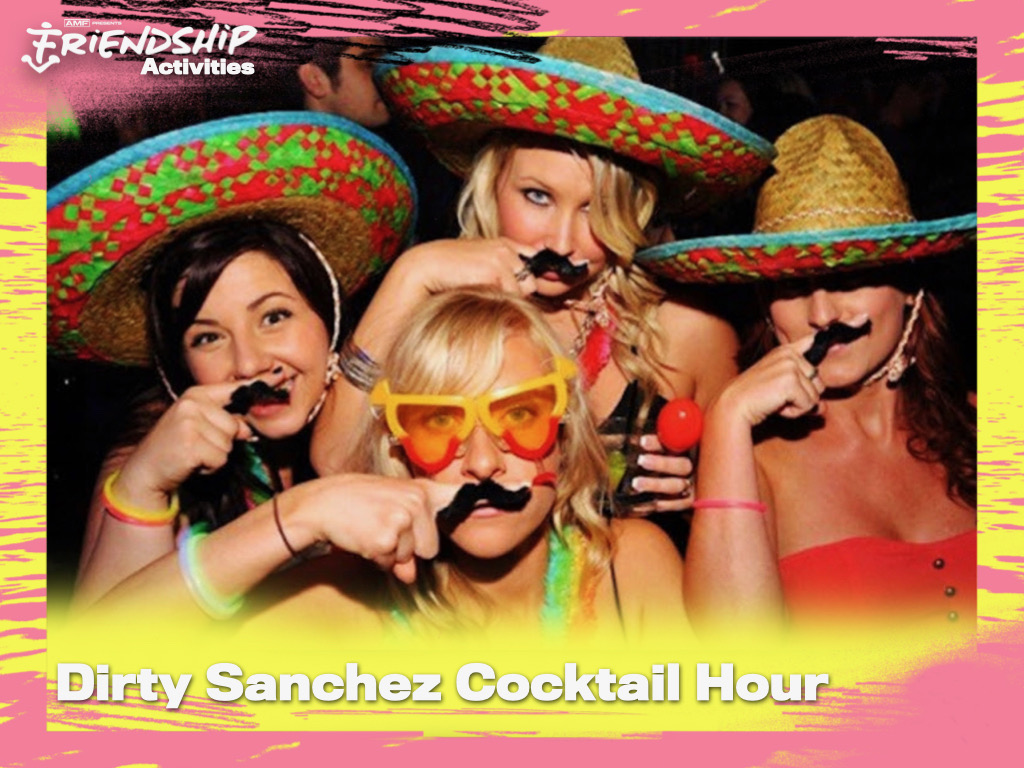 Dirty Sanchez Cocktail Hour
Bring your creepy mustaches, if you don't have one one will be provided for you, hopefully we can break some sort of record for group mustache pic. Moustache rides strongly encouraged.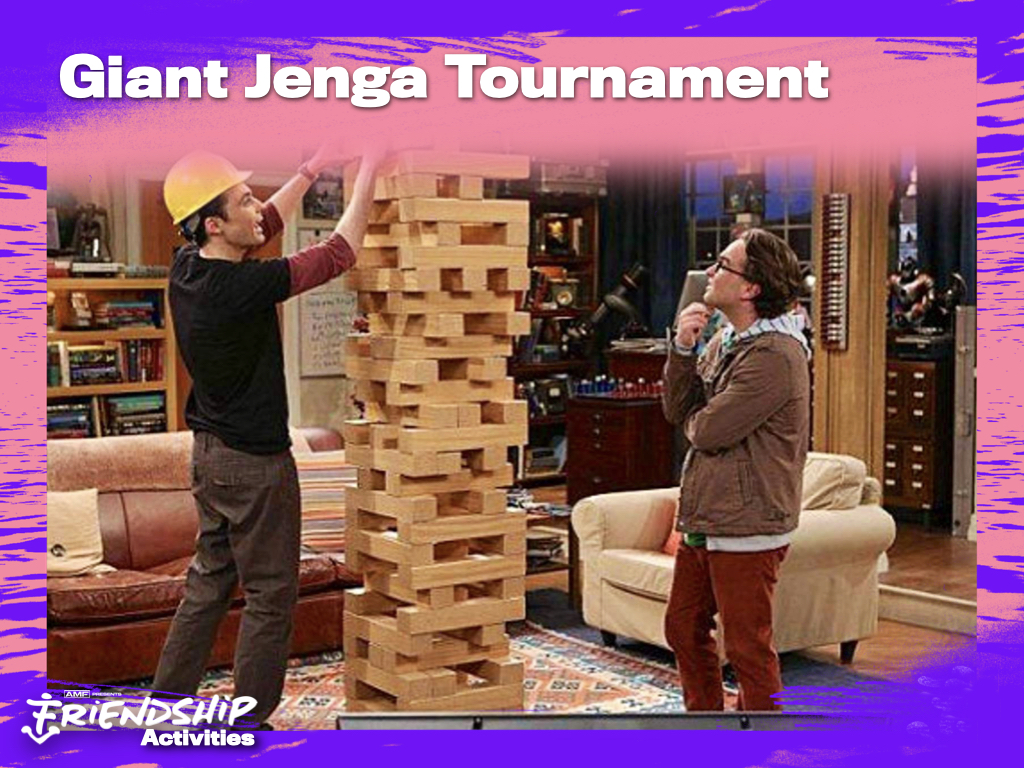 Giant Jenga Tournament
Get ready to rock the boat (literally) with Giant Jenga – the game that takes the classic tower-building challenge to new heights (and seasickness-inducing lows). One wrong move could send the entire structure tumbling down, sending players diving for cover and leaving everyone in stitches. Actually, No Diving Allowed. Grab a block, find your balance, and let the games begin!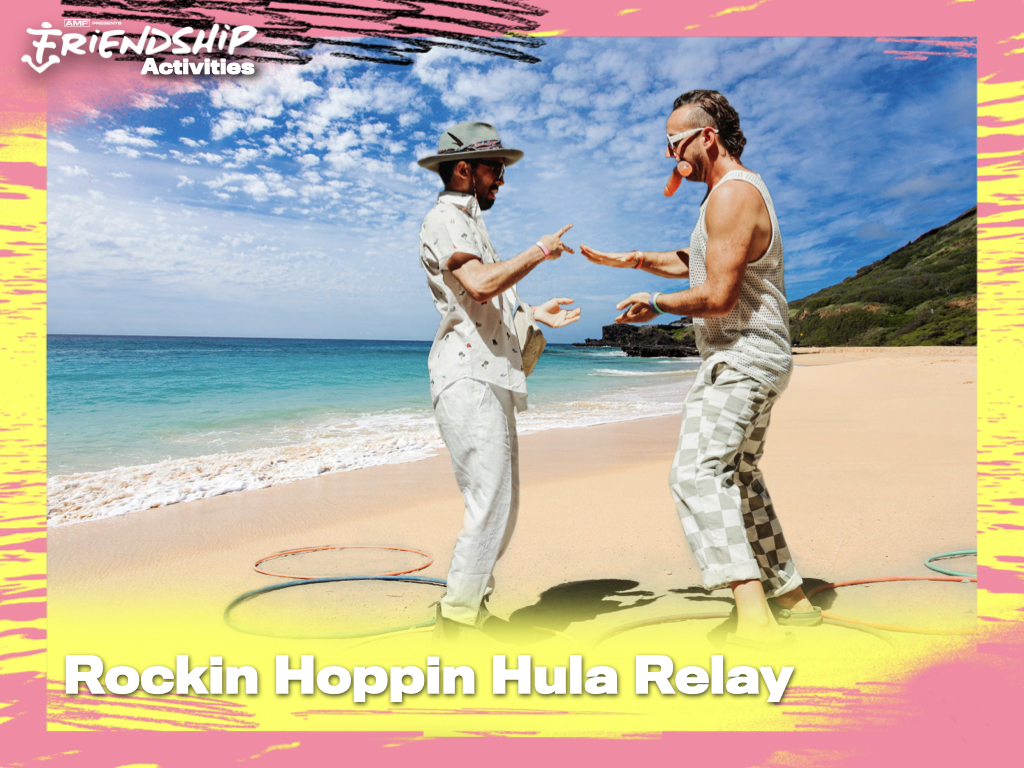 Rockin Hoppin Hula Relay
When Rock, Paper, Scissors meets Hula Hoops … A combo of hand and foot skills …get your head out of the gutter and come try it out!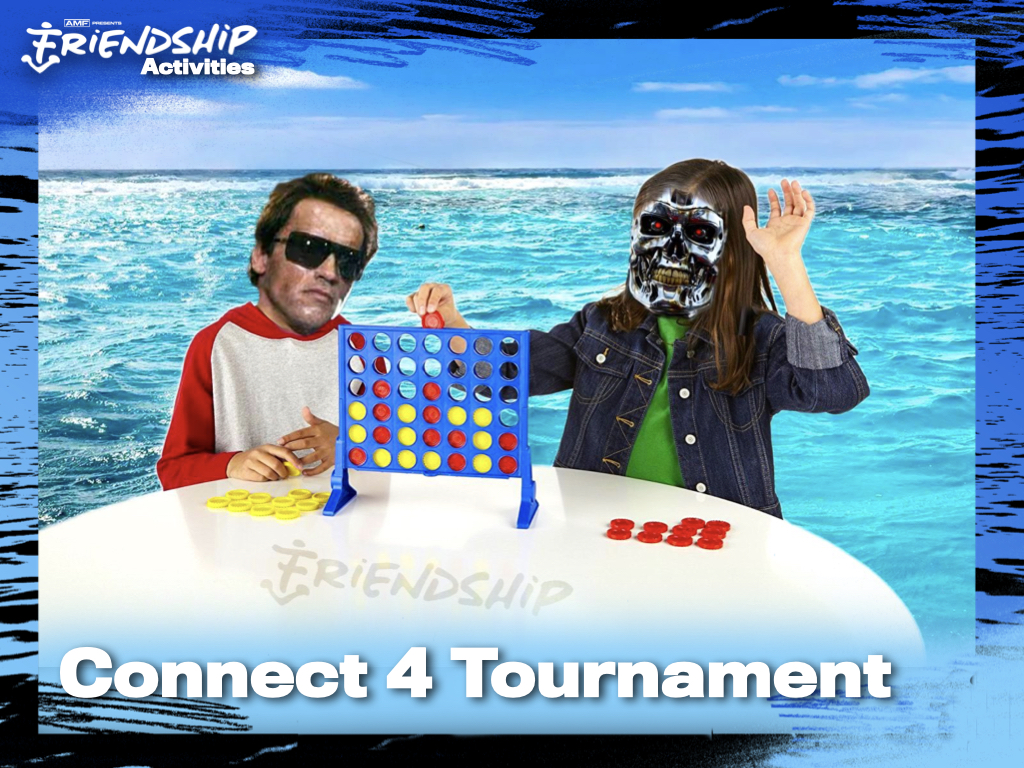 Connect 4 Tournament
Get ready to challenge your opponents and put your strategy to the test with a Connect-4 Tournament – SPEED style. Where's Keanu? You'll have to think fast, act quickly, and use all your cunning to be the first player to get four in a row. But be careful! Your opponents won't give up without a fight, and a well-timed move could turn the tide in their favor. Whether you're a seasoned veteran or a newcomer this tournament is guaranteed to provide lots of fun, laughter, and friendly competition. So grab a friend or foe, pick a color, and let the games begin!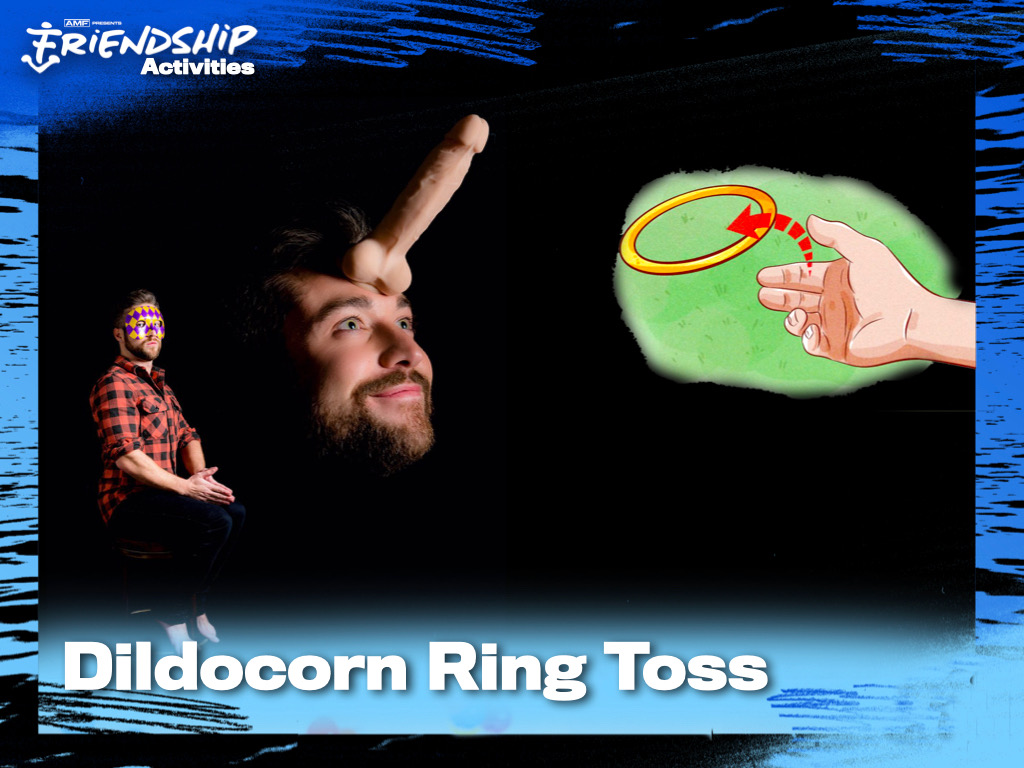 Dildocorn Ring Toss
The Raunchy Ring Toss Game that just got raunchier! Players take turns wearing strap-ons on there foreheads, transforming into magical Diodcorns! So, grab your friends, a set of dildos, couple of drinks and get ready to get down and dirty with a night of tossing rings onto… dildos!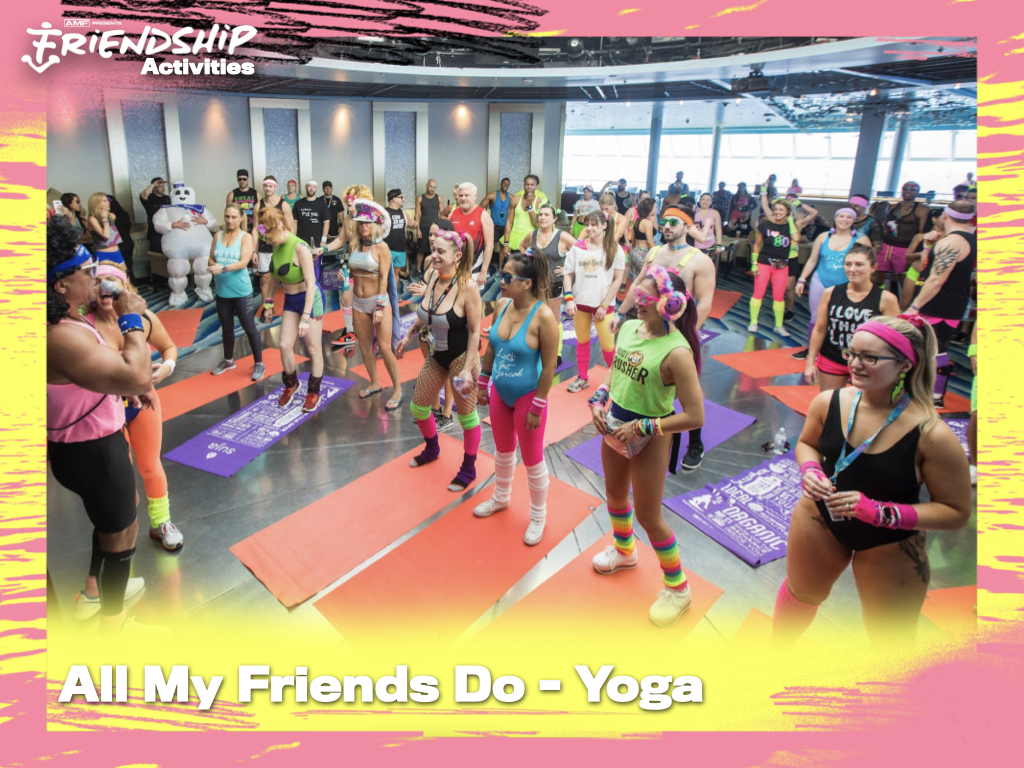 All My Friends Do Yoga
Get ready to stretch your legs, inhale the invigorating ocean breeze, and take a break from the world while taking care of your body while in good company. This rejuvenating experience is all about restoring your body, mind, and spirit so you can dance the night away with boundless energy and joy!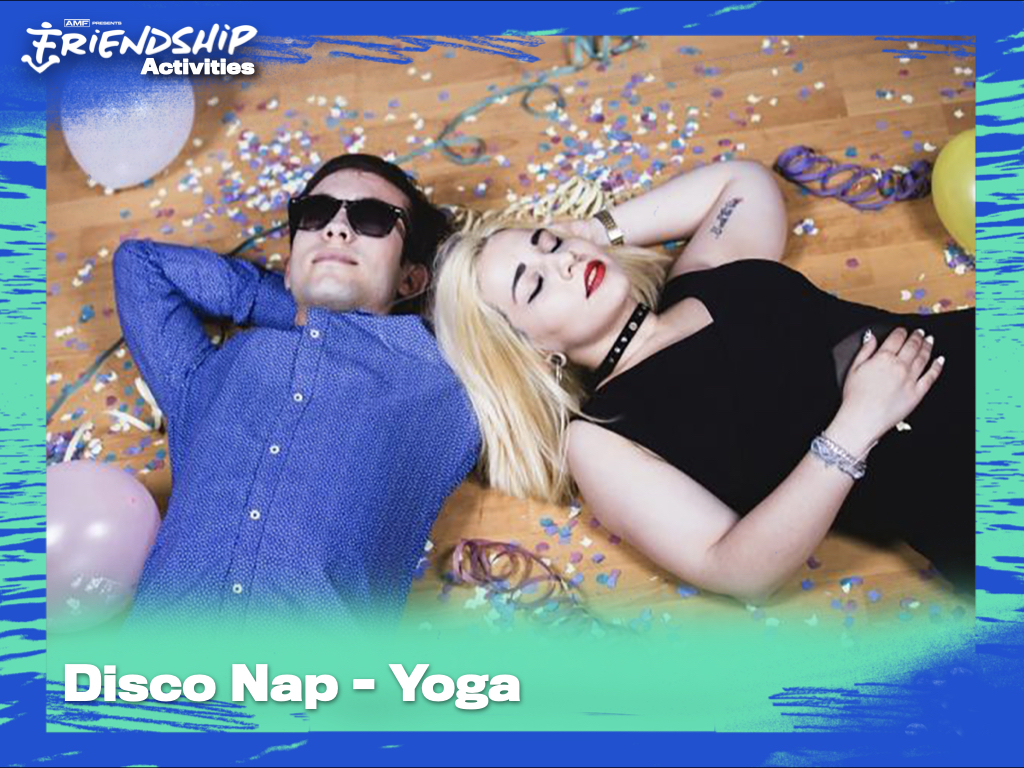 Disco Nap (yoga)
You read that right. This group disco nap or yoga nidra practice is here to help make up for the sleep you're not getting. This guided meditation practice will leave you feeling deeply relaxed and rested for the day ahead.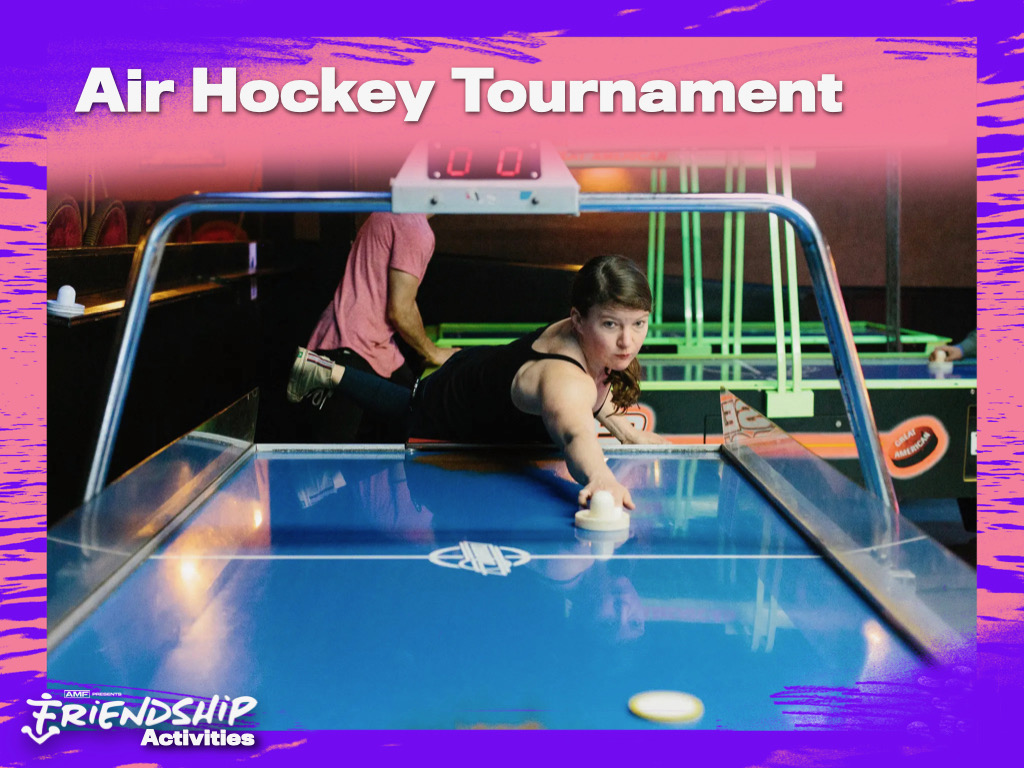 Air Hockey Tournament
While hand eye coordination may not be at it's best on the ship, Our air hockey will still be very fun! Suprise guest Dj will not disappoint.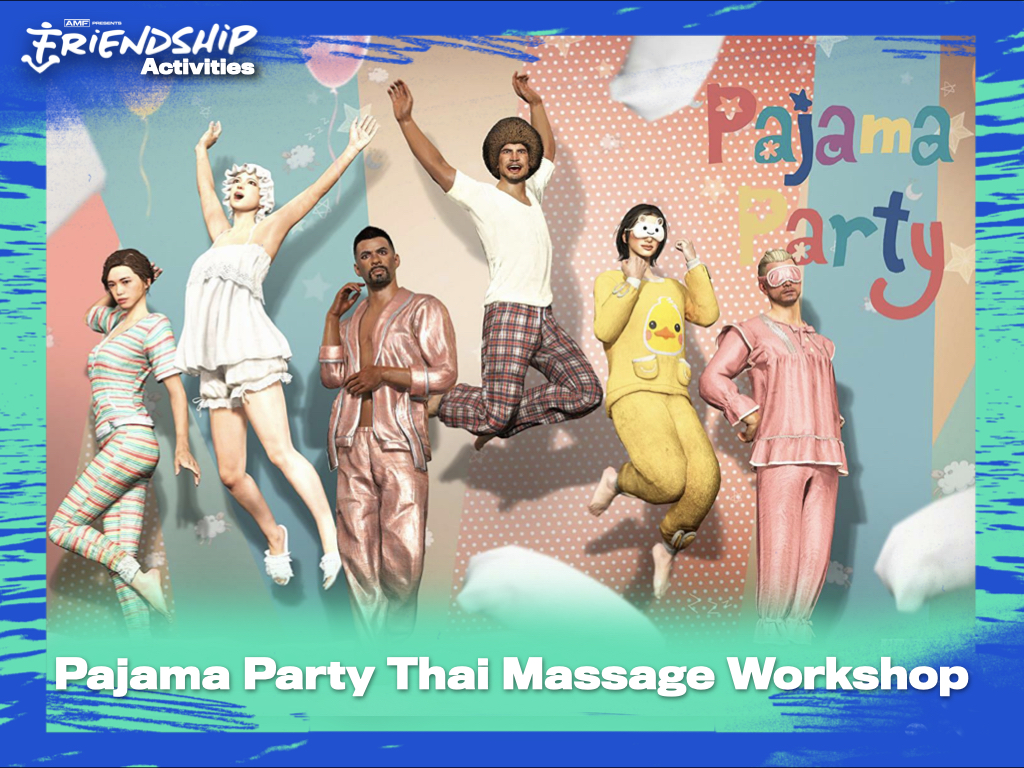 Pajama Party Thai Massage Workshop
Dancing muscles feeling sore? Grab a yoga mat and immerse yourself in the traditional art of Thai massage! Thai massage is a form of bodywork that combines gentle stretching and pressure point therapy to help you release stress and tension. Our experienced instructor will guide you through the basic techniques of Thai massage, including acupressure, compression, and yoga-inspired stretches, giving your body a well-needed boost of energy, flexibility, and range of motion. Participants will be paired and take turns practicing and receiving techniques that will rejuvenate and relax your whole body. Don't miss out on this opportunity to deepen your connection with yourself and others, and leave the festival feeling refreshed and revitalized! Wear comfortable clothing that allows you to move freely, bring water, and be ready to experience the ultimate in relaxation. Loose Onesies and Jammies are Highly Encouraged!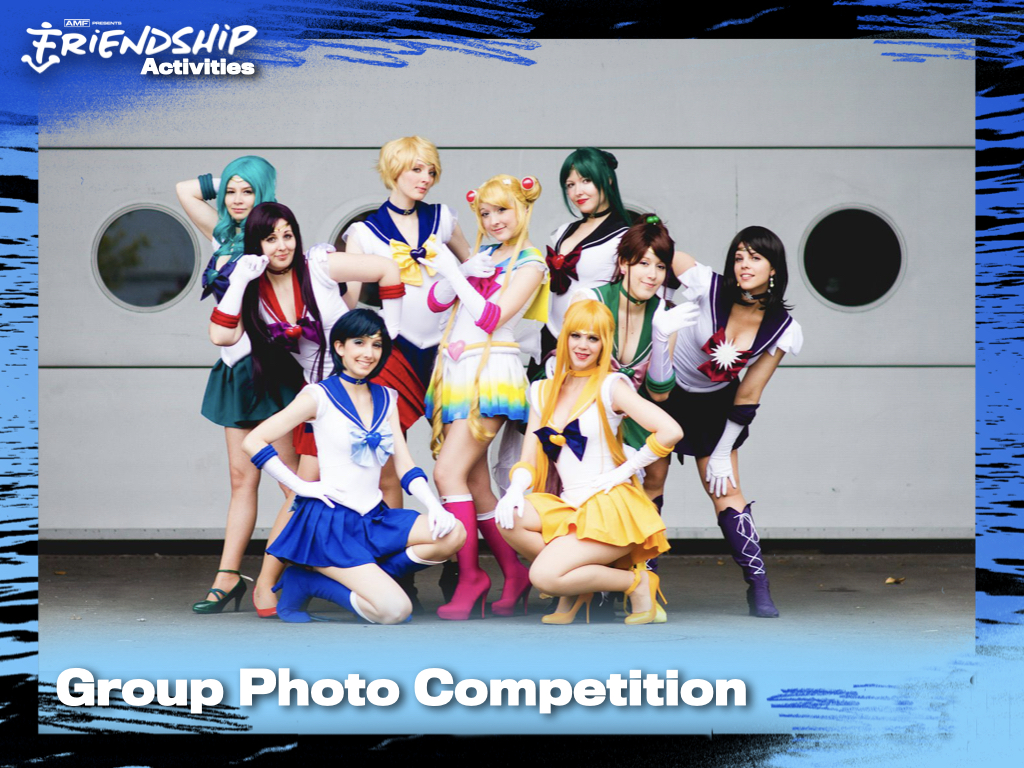 Group Photo Competition
Is your crew thew wildest? It's time to prove it with the Group Photo Competition, bring your A game because this shit is gonna get crazy.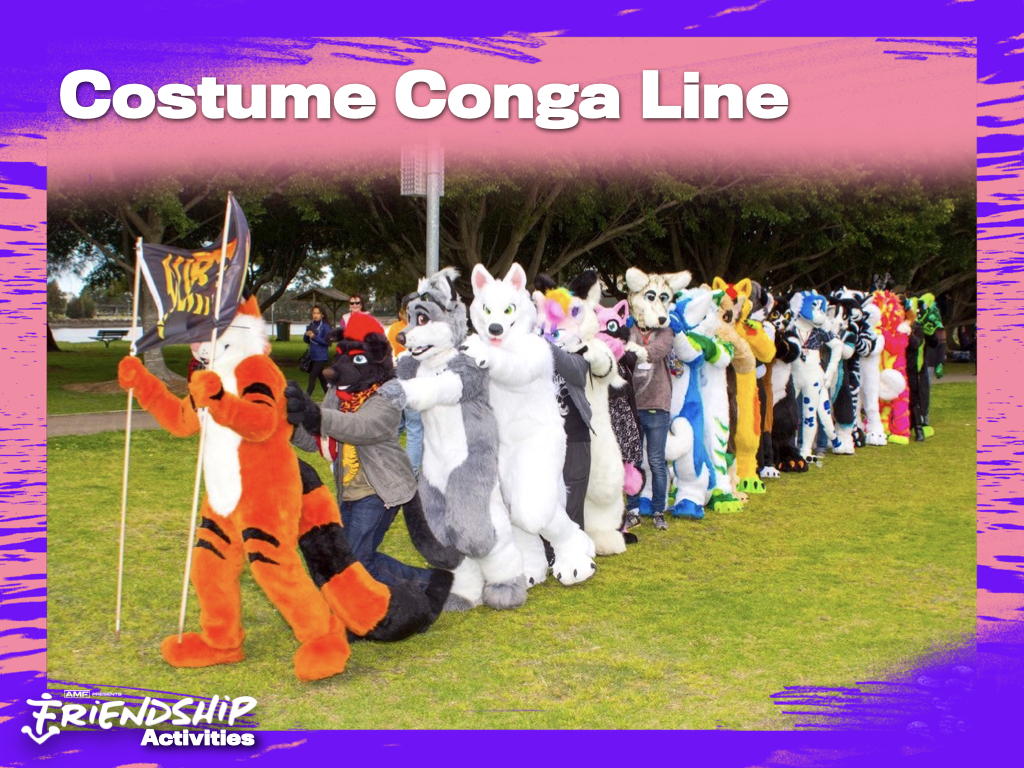 Costume Conga Line
Meet us a activities HQ (bliss lounge) dressed to impress, we will do a costume conga line lap on the whole ship, bonus points if you can pick up lots of shipmates along the way!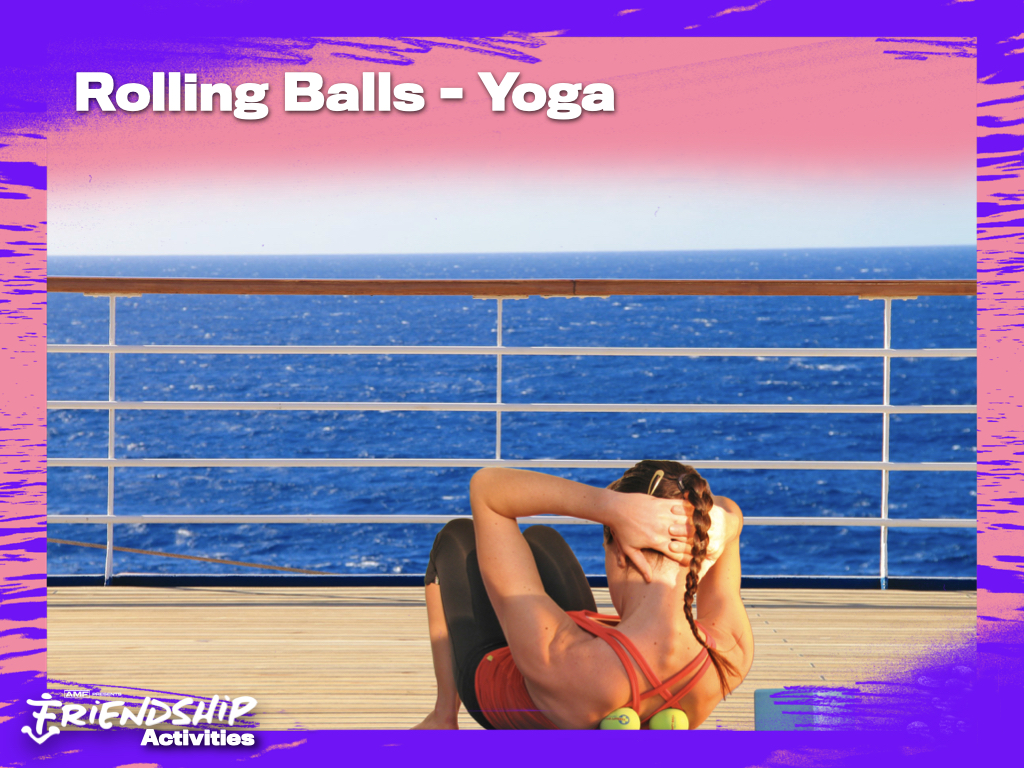 Rolling Balls (yoga)
Want to get back out on the dance floor but feeling your feet and lower back this morning? (Partying like a 90's club kid will do that to you.) This myofascial release class will utilize lacrosse balls to gently massage the body, open up the connective tissue and get you back to the music.